A cruise vacation has been on your mind for a while.  You have thought about it, dreamed about the exotic destinations it can take you to, but worry you won't like it. Thoughts like, "What if the cabin is too small and can't accommodate my needs? What if there is no water pressure in the shower.  What if I pick the wrong cabin type and what about the food? How do I proceed, what is check-in like?  Questions like these can make you worry enough that you put off the idea of a cruise vacation for another time.
Seek out a professional.   The internet is saturated with cruise line marketing and discount websites with their "Buy Now, Limited Time Offer, Free This, Free that" No wonder one may feel overwhelmed in the process and just give up entirely.
True professional travel planners  visit several cruise lines a year to make sure we are educated on the most popular cruise lines.  I travel to Florida, New Jersey, New York city and Europe to perform ship inspections on most of the cruise ships I sell, to ensure that the ship meets all my clients standards. What I find is that most exceed my expectations.  I will travel to great lengths, with 50 or more other travel professionals, to catch a 3 hour tour between actual passenger sailings.  It's all for my clients
I do this because of the questions and feedback I receive from my clients.  For example, a party of 4 people who want to cruise together want to know how a cabin is configured. They want to know how they will sleep.  It can be a challenge to find pictures of the actual cabins. This is where I come in;  I go behind the scenes for my clients.  I  lovingly call it my discovery tour..
There is always the statement "I just want the cheapest cabin available" careful what you wish for.  You could end up with this:  Not too romantic if it's your honeymoon.
There is such value to using a well educated travel planner.  We understand value as well but your money could instead give you this interior cabin like this one on the brand new Quantum of the Seas by Royal Caribbean.  The picture below is called a Virtual Balcony Cabin.  Pretty cool right?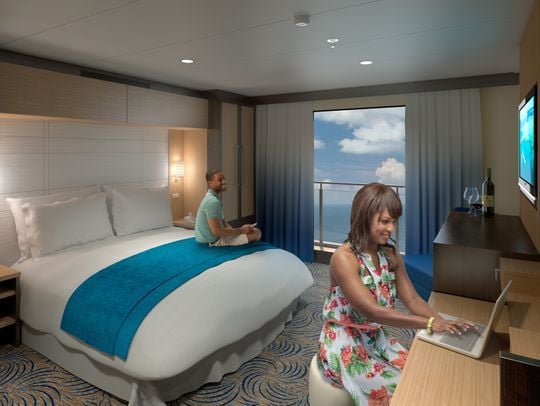 Maybe you are thinking of something bigger and more dreamy, something more luxurious because you are celebrating something extra special.  After meeting with you and discussing your needs, I make sure you are given the exact experience you have in mind.  We visit as many categories as possible to make your dreams and your experiences ones you will never forget. For example, this beautifully designed suite on board the Norwegien Getaway.
 We test the water pressure, we even check out the leg room for you!
We try out the equipment to ensure everything is working order.
We go to all extremes to meet the kitchen staff on board and endure all kinds of weather! Not all ship inspections happen in sunny warm climates! These two gentleman are experiencing snow for the very first time!
I also get the question "What is there to do on the ship, I dont want to be bored".  Ladies and gentelman, you will find a plethera of choices. Musical productions, bumper cars, fine dining venues, excellent dance clubs and so much more.   And to make sure it's fun, we try it out!
Alot of my clients also ask me about adult time & quiet areas to relax in.  You will find it.
Ship inspections, believe it or not can be quite exhausting by the end of the day.
When you find yourself again thinking about finally taking that cruise vacation you have been thinking about, seek professional help.  We all need it at some level.  I am here to listen to you & guide you in the right direction.  It is my goal to make your cruise as flawless & memorable as possble.
Bon Voyage!